August 23, 2021
Tar Spot Spray Timing Trials
Trial Objective
Every year since first reported in the United States in 2015, regions of tar spot incidence have expanded. Tar spot has been repeatedly identified in counties where it has been previously reported and continues to expand to nearby counties every year. In 2020, tar spot expanded into new areas that included Missouri, Minnesota, Pennsylvania, and Ontario (Figure 1). 

In severe cases, losses from tar spot of 50 bushels per acre or more have been observed.1
While fungicides have shown effectiveness in managing tar spot, timing of fungicide applications is important in successfully managing this disease.

The objective of these trials was to determine the effectiveness of fungicide rate and timing on the management of tar spot in corn.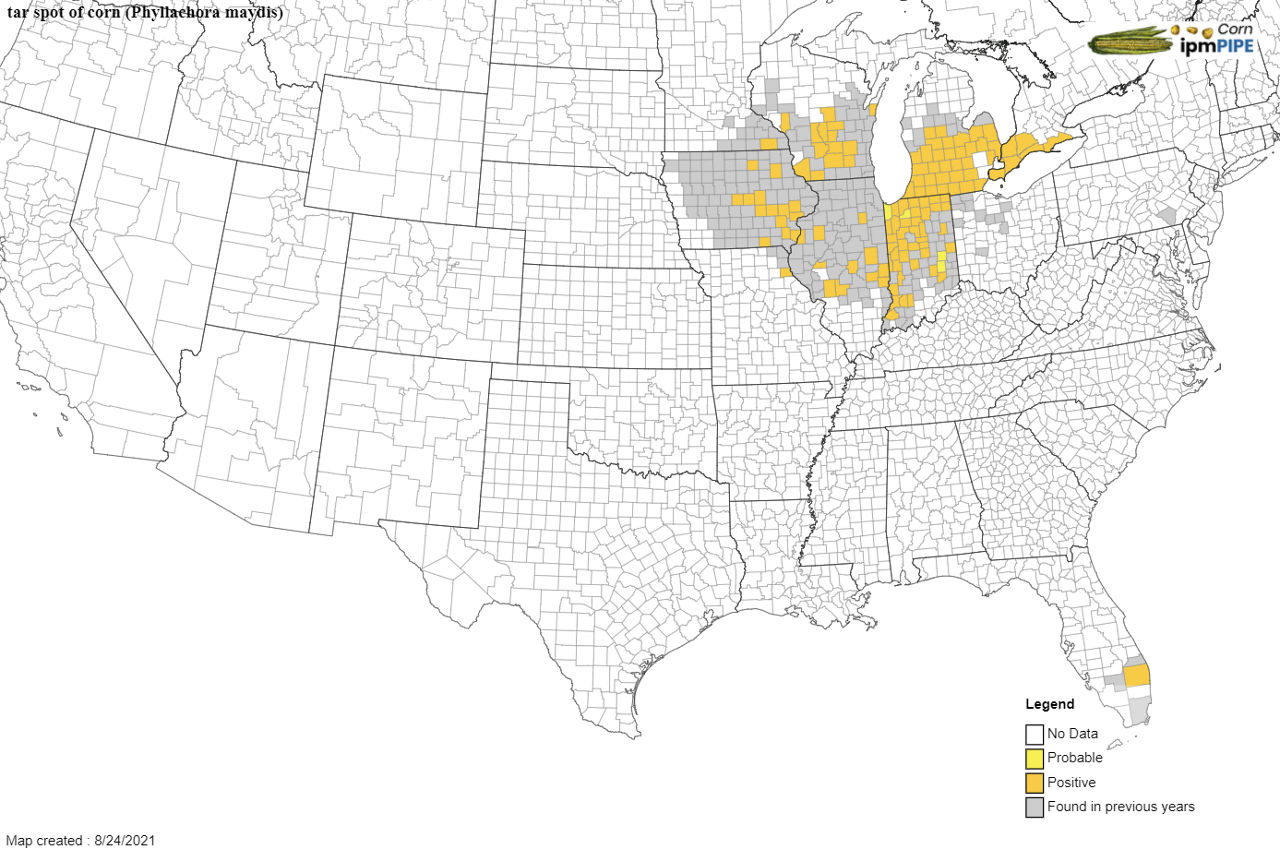 Figure 1. A map of current and previous tar spot infected areas as of May 2021.  Source:  https://corn.ipmpipe.org/tarspot/ 
To review Research details, click on a site location

Key Learnings
Across years, application of a high quality, multiple mode of action fungicide such as Delaro® Complete Fungicide helped to protect yield potential against tar spot compared to the untreated control.
Timing of fungicide application is critical based on when disease pressure occurs.

Early and continuous scouting in areas with previously reported disease is important for understanding disease pressure and planning timely fungicide applications if needed.

Depending on when disease pressure occurs (early- to mid-season or later in the season), multiple fungicide sprays may be warranted.
*All corn products show susceptibility to tar spot. Those considered susceptible show more severe symptoms of tar spot earlier than those considered less susceptible.
Sources:
1 Chilvers, M. July 1, 2020. Tar spot in the spotlight. Michigan State University Extension. https://www.canr.msu.edu/news/tar-spot-in-the-spotlight. 
6005_R12
Thank you! Your feedback has been submitted.